Franklin Lighting is proud to be your local lighting store of choice in Sarasota and Bradenton. We've been family-owned and operated for three generations, and we're proud to be serving this community. Below, we'll take a look at why you should shop at our local lighting store. Stop by our showroom today!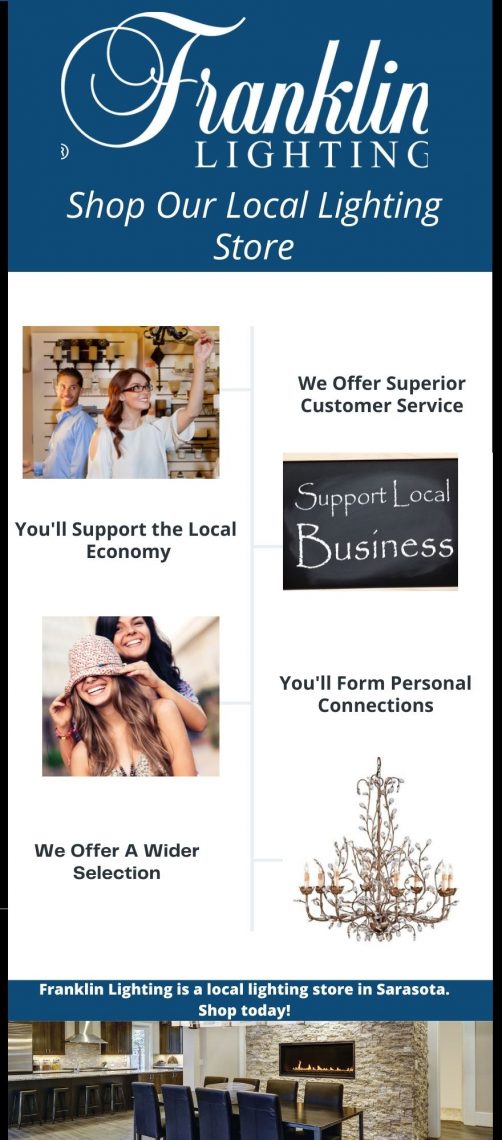 Superior Customer Service
When you shop at our local lighting store, you can expect superior customer service. Our highly trained and professional lighting specialists are here to share their knowledge and flair for interior design with you. We ensure that when you walk through our door, you'll feel like family — and be treated as such.
Support the Local Economy
When you shop locally, you'll be supporting your community. Your tax dollars will stay here in Sarasota, which helps support public improvement projects, libraries, police, and more. And, you'll be helping to create jobs right here at home rather than overseas.
Personal Connections
From the moment you step foot in our Sarasota lighting showroom, you'll feel welcomed, acknowledged, and important. We take the time to get to know our customers and their specific needs, and we do our best to ensure you have the right lighting products for these needs.
A Wider Selection
Local businesses are more likely to carry a wider selection of goods than national businesses. Plus, the selection is catered to your hometown and its specific needs. For instance, we carry hundreds of ceiling fans because of the humid climate here in Florida. Our unique lighting products are customized for your needs.
SHOP FRANKLIN LIGHTING TODAY
Franklin Lighting has been a locally owned Sarasota business since 1968. We love our community and are dedicated to helping whenever we can. Our staff volunteers on a regular basis, and we are always ready to lend a helping hand. If you are in need of interior, exterior, or landscape lighting, as well as ceiling fans or home accent items, stop by or browse online today!