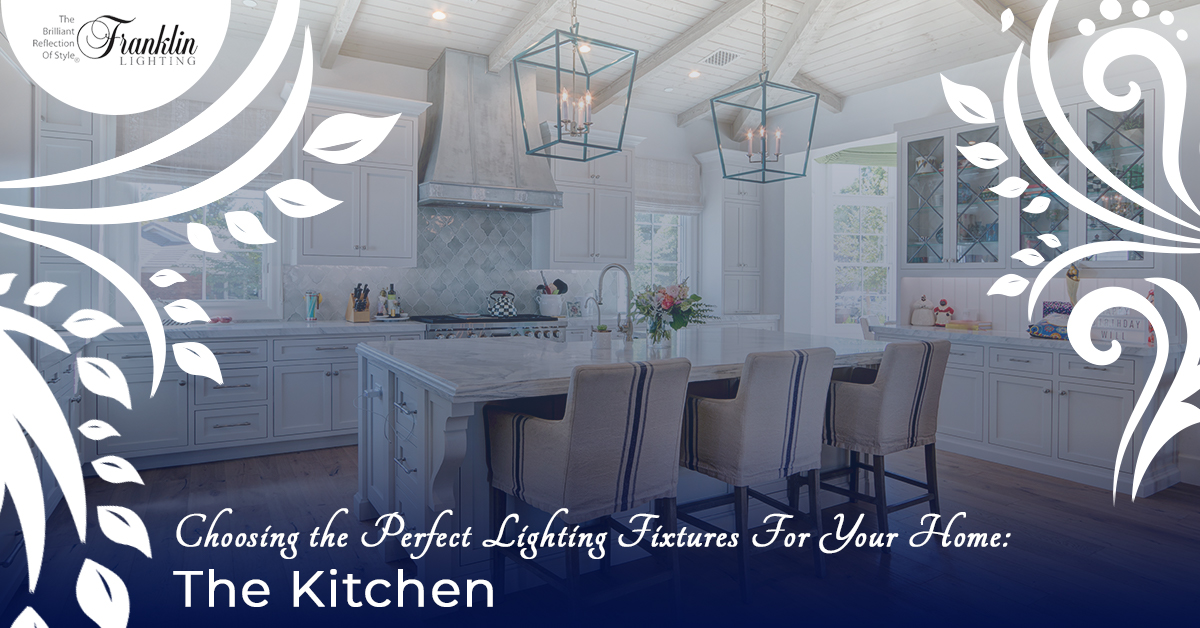 Whether you're remodeling or building your kitchen from the ground up, choosing the perfect lighting fixtures for the rooms in your home should be the main priority. The kitchen is one of the most important rooms in your house to focus on, especially since most homeowners spend a good majority of their time in the kitchen — whether that's spent cooking or entertaining guests. Choosing the perfect lighting fixtures for your kitchen won't only add beautiful design elements, but will also add the maximum functionality of your preference.
At Franklin Lighting in Sarasota, Florida, our team of lighting specialists can help you choose the perfect lighting fixtures for your kitchen. We have years of experience in the industry and we know what looks best and what lighting solutions will best suit your lifestyle. Contact us today for your next lighting home improvement project.
We've put together a guide for finding the perfect lighting solutions for your home's kitchen.  We offer kitchen lights ranging from hanging lights to under cabinet lighting, so make sure you browse our online catalog to browse fixtures that would look great in your home!
Plan Early
Procrastinators: pay attention. The kitchen is one of the most important rooms in your home since you'll be using it probably almost daily, morning to night. Good lighting will help you successfully complete a variety of tasks, from prepping dinner to washing your dishes safely.
We suggest you plan out your lighting design wants and needs early, as moving light fixtures after they're already installed is tedious and expensive.
Go With A Layered Lighting Design
Layered lighting essentially means using task, accent and decorative lighting to illuminate the room. By using this type of lighting solution, you'll have lights exactly where you need them and you'll be able to adjust the room's illumination depending on the atmosphere you're going for.
Task lighting will illuminate the spaces where you'll complete tasks, such as cutting veggies or inside of your walk-in pantry. Accent lighting adds depth and dimension to the room, and some examples include track lights or adjustable wall sconces. Decorative lighting is exactly what it sounds like: lighting that adds flair and personality to the kitchen. Examples include chandeliers, hanging lights or some decorative wall fixtures.
Safety First
A kitchen is a place where you'll be dealing with knife-cutting and hot pots and pans — you want a safe lighting option to be your first priority before anything else. You need to provide enough lighting to be able to safely prep, cook and clean, and if there are any dark spaces or shadows, your personal safety ultimately decreases.
We suggest installing under cabinet lighting because it puts the light immediately above your tasks at hand, eliminating opportunities for shadows and directly illuminating the space you're working at.
Choose Your Perfect Style
If your home has a minimalist style, find lighting that compliments that type of design. Same if you have a modern, traditional or farmhouse style of a home: find a style of lighting fixture that best matches your design. Matching the lighting fixtures to your home's overall design will ensure your home has a nice flow to it and will make your rooms appear like they are strategically decorated.
This is where you can have fun and add your personality to your kitchen, but if you're unsure of what type of lighting fixtures would best suit your kitchen, ask one of our lighting experts for advice!
Choose The Perfect Fit
Depending on the size and space you have in your kitchen, you want to take the sizes of your lighting fixtures into great consideration. If you have a small kitchen and choose an oversized chandelier, the room will feel even smaller. If you have a large kitchen and you choose a lighting fixture that is too small, you won't get enough sufficient lighting and the fixture will get lost in the space.
Pro tip: If you opt for a hanging lighting fixture, keep in mind that it should be about 32 inches above a table or counter, or about 7 feet from the floor.
Get Fancy (And Efficient)
We have a variety of lighting control systems that will allow you to customize your kitchen's illumination with ease. Depending on the lighting controls you choose, you can change the mood and functionality of the space with a click of a button.
A common lighting control our clients purchase are dimmers, and they hire a professional electrician to install them in different parts of the kitchen to make dimming quick and efficient.

Choose Franklin Lighting For Your Kitchen Lighting
At Franklin Lighting, we know the average homeowner isn't a lighting expert, which is why we are here to help! If you're looking to find lighting solutions for your kitchen, reach out to our team for further assistance. You can reach us at (941) 355-2550 or by filling out our online form. You can also visit our showroom in Sarasota to see our lighting selection for yourself! We look forward to meeting you.